Message Assets
Message assets are basically like templates. They allow you to preconfigure a message that you can reuse at a later date. There are various types of message assets. You can access them via the Messaging Module and click the second tab, Message Assets.

Email Message Assets
There are two types of email message assets – Public and System (notifications). Public assets are ones you can use to communication with your Constituents, while system assets are only used internally to send notifications.
Heads Up
You cannot modify system asset content, only the sending details.
Creating a New Public Asset
Expand the Emails tree and highlight the folder you want to add an asset to.

You can also click the Add Email button at the top.
Asset Details
There is a lot of information about an email asset. Please review the fields below to see what each field does.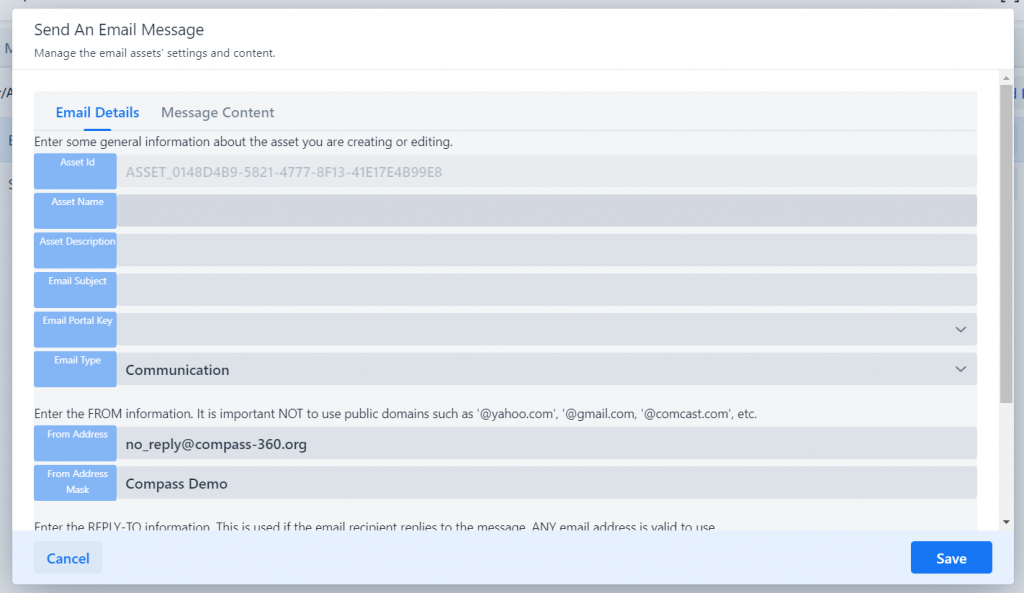 Asset ID
Compass-360 will assign a unique internal asset ID for each template. This is not configurable.
Asset Name
Assign a name for this template that is meaningful to the team. This is an internal name and what users will see when searching for email templates using the Email Broadcaster.
Asset Description
Additional details about this asset they may be useful beyond the name, furthering describing the email asset.
Email Subject
The title of the email that will be seen by the recipient via the subject line in their inbox.
Email Usage Hint
Use this field to associate a use type with the email. This will appear as a column in the email template library for organization.
From and Reply-to Settings
Use these fields to define custom email addresses for sending and receiving emails. The default setting is from the compass-360.org domain. It is recommended that you swap out the domain only if your organization has its own domain. Email addresses from Gmail, Yahoo, Hotmail etc. should not be used as they may get flagged as spam.
Important to note:
Filters and firewalls that protect the recipient's email can impact whether or not an email is filtered through to Spam or Clutter. Particularly emails that have words that are commonly found on spam lists.
You can also set the mask name to represent the entity that is sending the email.
Email Type/Classification
Every email must be designated by usage/type, essentially selecting what type of communication is being sent. Default is set to Communication.
Constituents can manage their own subscription preferences based on these email types.
Communication – for general communications, like organizational announcements.
Event Notification – for communications regarding events.
Fund Raising – for communications that are soliciting donations, like annual campaign asks.
Newsletter – for newsletter communications.
Transaction – for communications involving transactional information.
Message Content
Once you have the details configured, you can now edit the content.
Once you're done editing, click Save. The message should now appear in the table.
System Assets (Staff Notifications)
As mentioned, you cannot modify the content of a system asset. Currently, system assets are only for email.
For each notification, you'll want to configure the specific recipients who should receive the email within your organization. For example, those that handle new registrations should receive the New Membership notification.

Highlight the row and click View / Edit. At the bottom of the dialog, you'll see an input to set the recipients. You can add multiple recipients by delimiting the emails list with a semicolon. For example:
email1@gmail.com;email2@gmail.com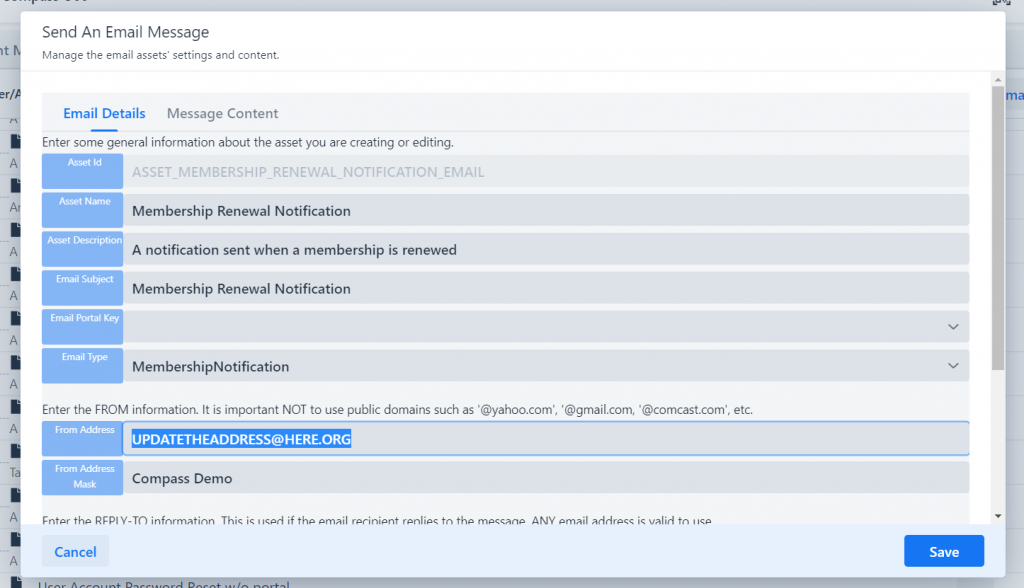 Housekeeping
It's best practice to store your assets in folders to keep your assets organized. This will help when you're looking for a asset later, or deleting unused assets. Click on the top level folder or a current folder, then on the more icon, then on Create Folder.