Navigating Locations
You have complete autonomy over the locations that can be configured for the system. You can have them all listed, or create thorough hierarchies to really round out the various locations and venues of your organization uses. For example, you can create a county venue, with several levels of sub-venues underneath, like school district, city, school, rooms, etc.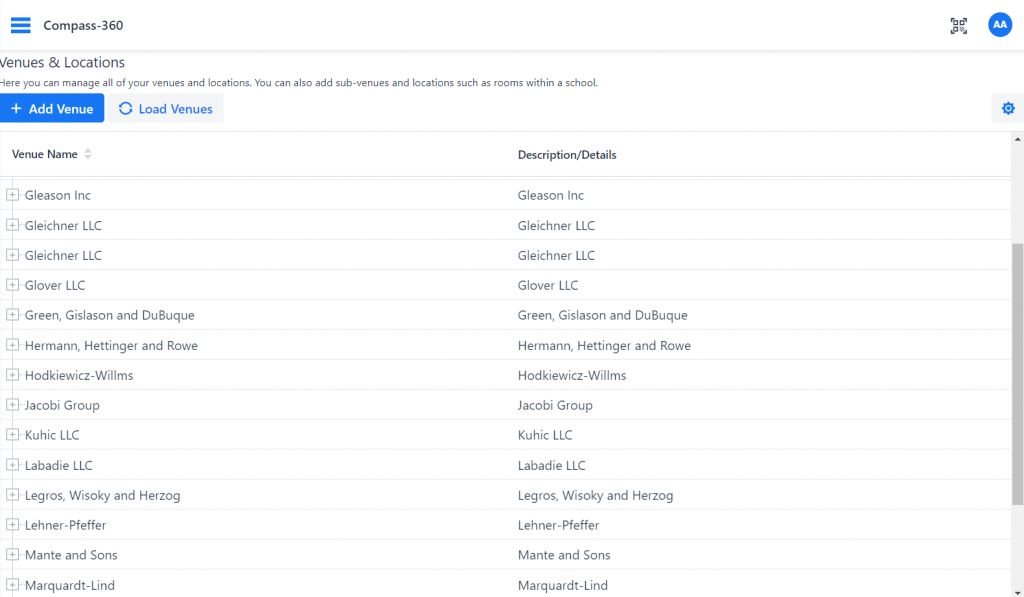 Heads Up
The term Venue and Location are synonymous.
Below the greyed box, you'll see a quick + Add Venue button on the left, as well as a Load Venues button. To the right, you'll see settings button.
List of Venues
Your previously configured venues will populate in tree-like format. From there, you can configure various levels of sub-venues within a venue.
If you have multiple sub-venues within a venue, to view them, select the + button to the left of the venue's name or select the name of the venue.
Viewing a Venue
To view the details of a venue, select the venue's Description/Details, which appear to the right of the venue's name. The details will populate on the right in a sidebar. From there, you will be able accomplish various tasks.
The venue you are viewing will appear highlighted, ensuring you are viewing the correct one.