Updates: 5/8/23
Hello Everyone!
Parent Portal
We've been hard at work at a brand new Parent Portal which adds a new look and feel, more features such as wait lists, age requirements, customizable content, full language translation, better notifications, a better user experience and more!
Login / Register
The new parent portal addresses many of the previous issues and open cases. We'll be releasing the new version in closed beta in the coming weeks. If you're interested in participating, please let tracking@girlsinc.org know!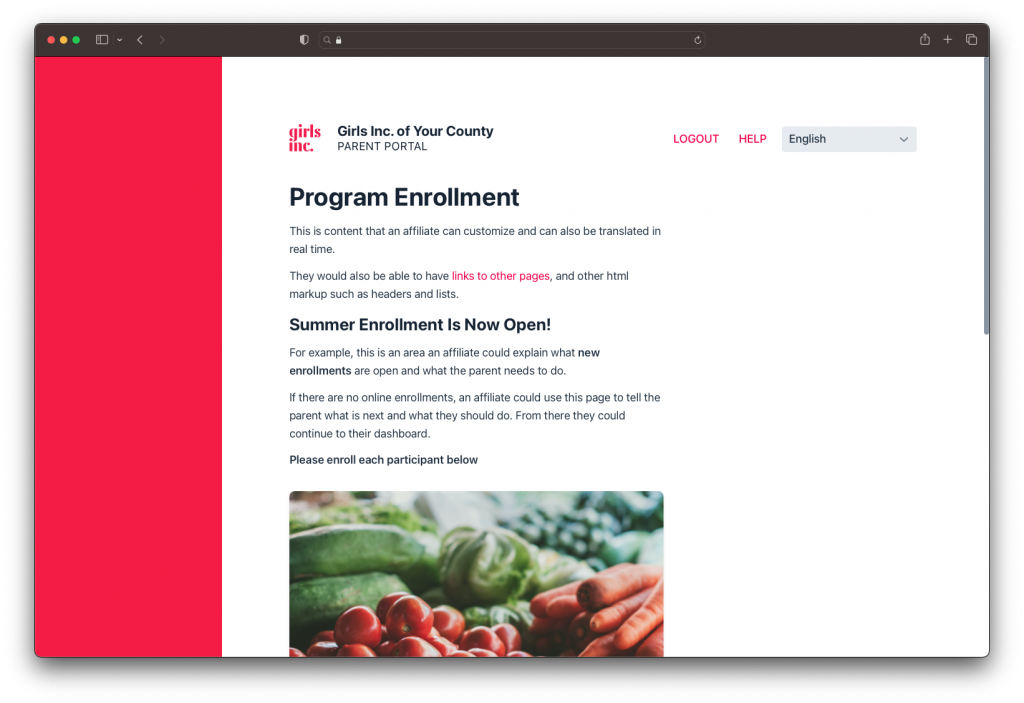 Registration – Online Enrollment
Stay tuned for more updates and the official release notes.
Updates
Updates
#19667 Updating the program template category and sub category fields. Part one includes the updating of the labels, which will now read Core Essential Service and Topic, respectively.
#19421 Second record of parent portal translation updates. This will be addressed in the new parent portal.
#19478 Non-required questions in custom registration questions are shown as required. This will be addressed in the new parent portal.
Fixes
#19669 Fixed an issue which caused extended attendance records from duplicate check-ins using the batch check-in recorder for front door attendance
In Progress
#19476 Fixing the publish dashboard button text when a dashboard is published
#19385 Add ability to cascade delete down a schedule, preventing ghost class records
#19686 Show parent information higher up on participants sidebar
#19307 Enforce volunteer qualifications on volunteer portal signup
#19495 Fixing images attached in emails
#19656 Updating the tag editor dialogs for better data handling with tag bindings and bound values
Check back for the next update announcement for more info.
As always, if you have any questions, don't hesitate to reach out to tracking@girlsinc.org!
Compass-360 Team