Updates: 11/22/21
New Reports & Queries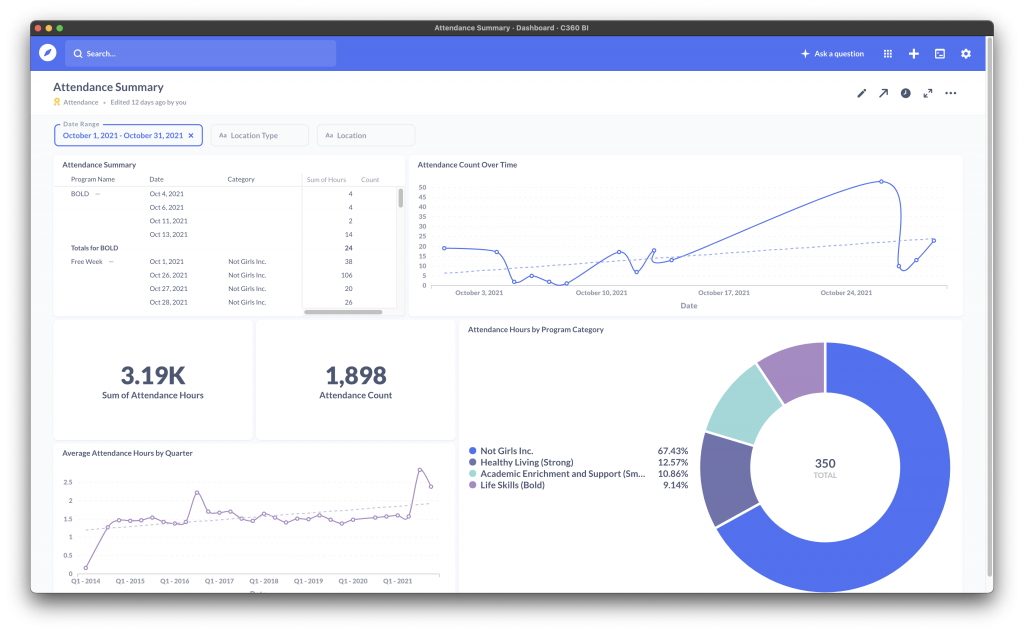 Some of you may have heard by now that we have a new reporting tool in the works – C360 BI. We're really excited about this as we know it's a core component to how you run your organization. This new tool will allow you to produce reports for your donors and grants, for board members or directors and complete the annual affiliate survey.
If you have not seen the demo yet check it out here.
Our team has designed questions and dashboards that we will release and managed by us – for every affiliate on day one of release. This will be available directly within the current application. You can use these questions and dashboards as they stand or use them as a baseline to create your own. You'll be able to ask any question about your data.
Attendance history
Unduplicated and duplicated enrollment history
Demographics from Participants and Parents
Tags
Relationships
Invoices
And everything else..
If you can think of it, C360 BI can answer it.
We plan to have this released by the end of the month (11/30). It will replace the existing dashboard and query module. All current and new reporting requests will be postponed until C360 BI is available.
If you have any questions about the new tool and how it can help you organization, don't hesitate to reach out.
Updates
We've also been hard at work on some of the day-to-day features of Compass-360.
Features
#11803 Ability to search Participants by grade level and graduation status
#18800 Ability to search Participants by membership level, combined with status
#18750 Added hours recorded, attendance date, and user who recorded to the attendance table within the Class Attendance view
#18776 Added the ability to create a unique ID for a single Constituent which allows a user to print a check-in card
#18775 Ability to search Participants by tag. You can search for a tag with an exact or any value
#18749 Added a refresh button the the instructors portal that allows the user to refresh their programs list
#18652 Show the upcoming classes and attendance for a individual Constituent from the sidebar. More to come on this
Fixes
#18798 Fixed an issue when adding user accounts that prevented the ability to select the Constituent. You can now also create a Constituent while adding a user account
#18806 Fixed an issue when adding Participants to rosters in bulk where the roster would display no results
#18732 Portals will now display the online title and fall back to the class alias. Previously it would display 'Class' or Program name
#18651 Fixed an issue on the parent portal where the user would have to log back in after clicking cancel
#18770 Fixed an issue with the Class Wizard ad-hoc option where the start date would be one month ahead when saved
#18765 Fixed an issue where the button to delete a Participant from a roster was not always being shown
#18649 Addressed some issues with mobile and tablet styling from the Constituents search that prevented searching on smaller devices
#18739 Cleaned up the options menu from the level within the Schedule view, removed unused options
#18799 Fixed an issue with the demographics form where it was not displaying all the possible options such as School Meal Program, Food Stamps and more
Scheduled Cases
While we continue through the rest of the month and leading into December, we have a handful of cases scheduled.
#18736 Ability to enter and enroll outreach participants in bulk
#18685 An issue with deleting tags and displaying the incorrect tag name
#18608 Add ability to cancel or refund a payment
#18611 Update the process to renew or enroll a participant when adding to a roster directly
#18609 Recording discounts and scholarships
#18733 Ability to manage center attendance records such as modifying or deleting incorrectly recorded attendance
#18694 Disabling credit card payment option if no credit card processor is available
#18662 Disabling the option to send a confirmation email when processing a payment
#18664 Adding ability to control privileges for a user account
#18754 Updating registration form fields for our Canadian affiliates
#18748 Updating the check-in dialog to show more relevant information and make the processes more fluid
#18740 Updating various table options including the ability to refresh, better filtering, showing results count
#18737 Add a confirmation notification when a parent registers their child from the parent portal
#18673 Add a filter to schedule to show only levels that are shown online
#18610 Add the ability to record an external payment for existing balances due
This is not the exhaustive list of scheduled cases, as we leave room for things that arise in real time. We also have a handful of new cases that will make it into this list. Check back for the next update announcement for more info.
As always, if you have any questions, don't hesitate to reach out!
Compass-360 Team